Nike Fleet Feet Racing Team Huntsville
runners took overall wins in Huntsville (twice) and Hartselle this weekend in impressive fashion.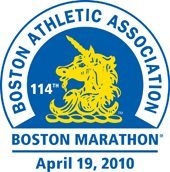 On Monday in Boston, Fleet Feet owner Dink Taylor and new team member
Tim Vinson
took on the 114th Boston Marathon. Tim went out hard at just over 6 minute pace and was able to hold onto it through the Newton Hills and go on to run an amazing 2:41:20, placing him 235th of 25,000 and 8th in his age group. Dink ran 2:57:32 putting him in the top one thousand runners. Outstanding performances on both their parts. Be sure to give them a heroes welcome when you see them next!
---
On Sunday at the Spring Zing 5km,
Eric Charette
and
Jon Elmore
ran 17:23 and 17:46 respectively, on a warm and windy course in Huntsville for 1st and 2nd place overall. The race was a benefit for the Montessori School.
Official Results
---
At the
Cookie Dash 5km
new team member
Brandon York
continues to impress with a sweeping victory over the rest of the field. Brandon ran a 15:46 on a very challenging course and beat the nearest competitor by 67 seconds. Shane O'Neill notched another 3rd place overall with a 17:17 and David Purinton took overall masters with a 17:36.
Whitney Hollingsworth
was top master and top female overall and
Lisa Rawlings
was 3rd place female. There were 421 finishers in the race. Overall Team Results 1 Brandon York, 24 15:47 3 Shane O'Neill, 37 - 5:34 4 David Purinton, 42 - 17:36 6 Marty Clarke, 48 - 18:13 8 Conrad Meyer, 45 - 19:02 9 Joe Francica, 54 - 19:11 10 Brett Wilks, 30 - 19:14 12 Randy McFarland, 49 - 19:39 13 David Rawlings, 38 - 19:42 29 Whitney Hollingswort, 46F - 21:43 33 Lisa Rawlings, 34F - 22:03
Official Results
Brett Wilks at the finish.
---
In Harstelle at the PD Foot Pursuit 5km, the duo of Elmore and Schotz were back at it and topping the podium once again. This time it was
Jon Elmore
taking the top spot with a time of 17:52 and
Eric Schotz
taking 2nd overall. The dominance of these guys west of the Tennessee River continues week in and week out.